Cape Tribulation Budget Full day Tour

Cairns, Australia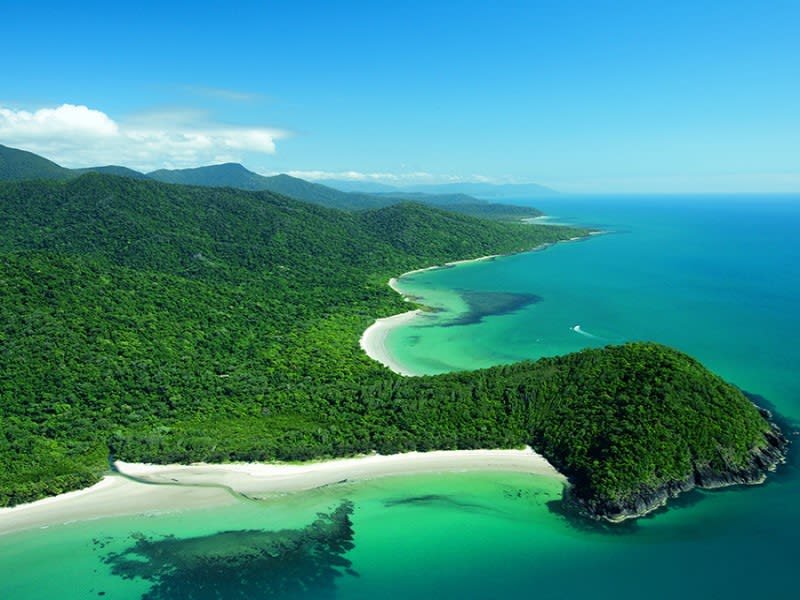 Child up to 12 years:
AUD $
149

Instant confirmation
WHAT TO EXPECT
Scenic Coastal Drive (Cairns to Port Douglas) Mossman Gorge (with Welcome to Country Indigenous Experience) Guided Rainforest Walk Cape Tribulation Short visit to world-famous Port Douglas

Cape Tribulation is where the world's oldest continually surviving tropical rainforests meets the Great Barrier Reef. Nowhere else on earth do two natural World Heritage-listed sites exist side by side. Discover the beauty and wonder of Cape Tribulation on this full-day tour with Indigenous Experience at Mossman Gorge.


Cape Tribulation Budget Full day Tour
11:00AM - 12:00PM

Monday, 29-04-2016

11:00 AM - 12:00PM

How many participants are there?

Child up to 12 years

:

AUD $

149
*Top Deals and Last Minute deals pricing is available for limited spaces
Terms & Conditions:
What to bring: Small day bag with your ticket, swimming costume and towel, camera, walking shoes, insect repellent, sunscreen, money for drinks and snacks. Condition: The minimum age for this tour is 5 years. Not included: Wildlife cruise.
1 RING TO CONFIRM 1800 801 540
181 ESPLANADE (LAKE STREET SIDE)
201 LAKE STREET (201 Lake St)
ACACIA COURT
Accomodation on Sheridan (183-185 SHERIDAN ST)
Show all pickup locations
1 RING TO CONFIRM 1800 801 540
181 ESPLANADE (LAKE STREET SIDE)
201 LAKE STREET (201 Lake St)
ACACIA COURT
Accomodation on Sheridan (183-185 SHERIDAN ST)
ADOBE MOTEL (193 SHERIDAN ST)
AEROGLEN VET (1 Aeroglen Dr)
AGINCOURT (69-73 Arlington Esplanade - Clifton Beach)
AIRPORT Turn Off Sheridan St. DO NOT GO INTO THE AIRPORT
Alamanda Palm Cove (formerly Angsana)
ALASSIO ON THE BEACH (139 Williams Esplanade Palm Cove)
AMPHORA RESORT BREAKFREE (PALMCOVE)
API UNITS CLIFTON BCH
AQEOUS MANTRA 3 - 5 Davidson Street, Port Douglas
AQUARIUS (107 THE ESPLANADE)
AQUEOUS MANTRA (3 - 5 Davidson St)
ARGOSY ON THE BEACH
ASPECT CENTRAL MOTEL (211 Sheridan St)
ASYLM
AVIS ON LAKE ST
BAILEY CRYSTALBROOK (163 Abbott St)
BALACLAVA HOTEL (1st City Caravella Pick Up Point)
BALBOA (Cnr Garrick & McCrosson St Port Douglas)
BARRON RIVER HOTEL
BAY VILLAGE (227 LAKE ST)
BEACH TERRACHES (15 Garrick St Port Douglas)
Bellview Bus Stop (Just north of International Bus Stop)
BEST WESTERN CAIRNS (702 Bruce Highway Old Nomads)
BEST WESTERN CENTRAL PLAZA Cairns (255-257 Lake St)
Best Western CITY SHERIDAN (157 Sheridan St)
Best Western Plus Cairns Central Apartments (cnr McLeod & Aplin St)
BIG MARLIN Mulgrave Rd Outside Stockland Earlville
BLUE LAGOON RESORT @ Cnr Moore & Trinity
BOHEMIA RESORT (231 MCLEOD ST)
BOUNCE CAIRNS (117 Grafton St)
BROTHERS LEAGUES CLUB
BUNGALOW HOTEL
BUNGY SMITHFIELD SITE
By The Sea (formerly Archipelago) (72 Macrosson St Port Douglas)
CAIRNS BEACH RESORT ( HOLLOWAYS)
Cairns Beaches Flashpackers (19 Veivers Road)
CAIRNS CITY BACKPACKERS (274 DRAPER ST)
CAIRNS CITY MOTEL (161 Lake Street)
CAIRNS CITY MOTEL 169 Lake Street
CAIRNS CITY PALMS (199 Sheridan St) formely High Chapparel
CAIRNS CITY SHERIDAN (formerly Best Western City Sheridan)
CAIRNS COLLEGE OF ENGLISH (67 Lake St)
CAIRNS COLONIAL CLUB RESORT
CAIRNS CONVENTION CENTRE (cnr Wharf and Sheridan St)
CAIRNS GATEWAY RESORT
CAIRNS GIRLS HOSTEL (147 LAKE ST)
CAIRNS HOLIDAY LODGE (259 SHERIDAN ST)
CAIRNS HOLIDAY PARK (12-30 Little Street Manunda )
Cairns International Southside (446-452 Mulgrave Rd)
CAIRNS LANGUAGE CENTRE (93-97 Mulgrave Rd)
CAIRNS MOTOR INN (187 SHERIDAN ST)
CAIRNS NORTH POST OFFICE
CAIRNS PLAZA HOTEL (145 THE ESPLANADE)
CAIRNS QUEENSLANDER (267 Lake Street)
CAIRNS RAINBOW RESORT (179 Sheridan St)
CAIRNS REEF APARTMENTS & MOTEL (670-678 Bruce Hwy (Service Rd)
Cairns Share House (Opposite Travellers Oasis Scott St)
CAIRNS SHARE HOUSE 351 DRAPER STREET
CAIRNS SHERIDAN HOTEL (295 Sheridan St)
CAIRNS SOUTHSIDE INTERNATIONAL (450 MULGRAVE ROAD)
CAIRNS SUMMERHOUSE (Nomads Serpent)
CAIRNS TRINITY BEACH HOLIDAY PARK
Cairns Tropical Zoo
CAIRNS VILLA AND LEISURE PARK (FORMERLY COLES)
Cairns Work and Play Old Cairns Beach House (239 SHERIDAN ST)
CALYPSO HOSTEL (5 DIGGER ST)
CAMPUS SHOPPING CENTRE SMITHFIELD (Outside KFC)
CANNON PARK MOTEL
CARAVELLA 149 (149 THE ESPLANADE)
CARAVELLA CENTRAL BACKPACKERS (formerly Corona's)
CARAVONICA SCHOOL
CASCADE GARDENS (175 LAKE ST)
CASSOWARY VILLAS
CASTAWAYS (207 SHERIDAN ST)
CASTLE HOLIDAY UNITS (209 LAKE ST)
CAYMAN VILLAS (Cnr Davidson & Mowbray St Port Douglas)
CENTRAL PLAZA PORT DOUGLAS
CITY PLAZA (37-39 DIGGER ST)
CITY QUAYS (6 LAKE ST OPP CONVENTION CENTER)
CITY WALK
CITYSIDER (78 UPWARD ST)
CLIFTON BEACH CARAVAN PARK (COOK HWY)
CLIFTON BEACH POST OFFICE (clifton beach shopping centre)
CLIFTON GARDENS
CLIFTON MOBIL (Highway Clifton Beach)
CLIFTON PALMS (35 Upolu Esplanade)
CLIFTON SANDS (81-87 Guide St.)
CLUB TROPICAL (CNR MACROSSAN AND WHARF ST PORT D)
CNR MOORE AND TRINITY STREETS (Trinity Beach)
CNR TOOGOOD AND MULGRAVE ROADS
CNR TRINITY AND ANDERSON STREETS (Trinity Beach)
COASTWATCH SHOPPING CENTRE (Trinity Beach)
COCONUT CARAVAN VILLAGE (Anderson Rd)
COCONUT GROVE (Macrossan St)
COMFORT INN ON LAKE (183-185 LAKE ST)
COMFORT INN ON McLEOD (63-65 McLeod St)
COMFORT INN PORT DOUGLAS (123 Davidson St)
COOL WATERS (cnr Brinsmead Road and View Street)
CORAL BEACH LODGE (formerly Port O Call)
CORAL REEF RESORT (192 Mann St)
CORAL SANDS (Cnr Moore and Trinity - Trinity Beach)
CORAL SEA VILLAS (Macrossan St - Beach end)
CORAL TOWERS (255 THE ESPLANADE)
CORAL TREE INN (166-172 GRAFTON ST)
CORONA BACKPACKERS (72 GRAFTON ST)
COSTA BLANCA (241 THE ESPLANADE)
COURT HOUSE PORT DOUGLAS HOTEL (Macrossan St)
CRYSTAL GARDEN RESORT (formally Skinny Dips) (18-24 James St)
CRYSTALBROOK SUPERYACHT MARINA (44 Wharf Rd Port Douglas)
DCM CITY OFFICE (cnr Sheridan and Aplin st)
DEEP SEA DIVERS DEN (DRAPER ST)
DoubleTree by Hilton Cairns (Cnr Abbott and Florence St)
DOUGIES BACKPACK RESORT (111 Davidson St)
DOWN UNDER DIVE (287 Draper Street)
Dreamcatcher Appartments (26-28 Reef Street Port Douglas)
DREAMTIME 4 Terminus Street
DRIFTWOOD MANTARAY (Macrossan st - Beach end)
DUNWOODYS (Sheridan St - PUB)
EDGE HILL TAVERN (145 Pease St)
EDGEHILL BOWLS CLUB (181 Woodward st)
EDGEHILL POST OFFICE (332 Pease St)
EDGEHILL STATE SCHOOL (254 Pease St )
EL DORADO (243 LAKE ST)
ELLIS BEACH CARAVAN PARK
ELYSIUM APARTMENTS
ELYSIUM APPARTMENTS @ Oasis Palm Cove
ESPLANADE BUS STOP (OUTSIDE THE RAW PRAWN CAFE)
FIG TREE LODGE (253 SHERIDAN ST)
FIRST CITY CARAVILLA (KELLY ST)
FLORIANA (183 THE ESPLANADE)
FLYING HORSESHOE MOTEL (281 - 289 SHERIDAN ST)
FLYNN CRYSTALBROOK (62 Abbot St for pick up)
FOAMING FURY DEPOT
FOUR MILE CARAVAN PARK
Freedom Hostel (12 Shields St LOADING ZONE)
FREESTYLE APARTMENTS (47 DAVIDSON ST PORT DOUGLAS)
FRESHWATER CONNECTION (Kamerunga Rd)
FRESHWATER VAN PARK
FULL MOON TERRACES (9 Craven Cl)
GARRICK HOUSE (11-13 Garrick St)
GECKOS BACKPACKERS (187 BUNDA ST)
GETAWAY ON GRAFTON (157 -159 Grafton St)
GILLIGANS BACKPACKERS (57-89 GRAFTON ST)
GLENGARRY CARAVAN PARK (Mowbray River Rd)
GLOBAL CENTRAL @ night markets Abbott street
Global Palace Port Douglas 38 Macrossan ST Port Douglas
Global Waterfront (Esplanade outside the Rattle and Hum Bar)
Globetrotters 154-156 Lake St Cairns
GOLDEN SANDS (12-14 Deauville Close)
GRAND CHANCELOR PALM COVE (previously Novotel)
GRAND MERCURE ROCKFORD APPARTMENTS (PALM COVE)
GREY WHALE
GROSVENOR IN CAIRNS (188 MCLEOD ST)
Half Moon Bay Marina Yorkeys Knob
HALF MOON BAY RESORT (Wattle St)
HAPPY HOUSE (25 Maranoa Street)
Harbour Lights (1 Marlin Parade)
HERITAGE VILLAS
HIBISCUS GARDENS 22 Owens Street
HIBISCUS LODGE
HIDES HOTEL (87 LAKE ST Opp Global Palace)
HILTON (34 THE ESPLANADE)
HOLIDAY INN CAIRNS HARBOURSIDE (LAKE STREET)
HOLLOWAYS SHOPS
HOTEL CAIRNS (CNR ABBOTT AND FLORENCE ST)
HUNGRY JACKS WESTCOURT
Ibis Styles Cairns Formerly All Seasons Cairns (cnr lake and Florence and Grafton st)
IL CENTRO (30 SHERIDAN ST)
IL PALAZZO (62 ABBOTT ST)
Imagine Drift Palm Cove (cnr Vievers Rd & Williams Esp)
INN CAIRNS (71 LAKE ST) pick up Global Central Shield St
INN THE CITY (141 Lake Street)
INN THE PINK (263-269 SHERIDAN ST)
IRON BAR (Port Douglas)
JJS BACKPACKERS (11-13 CHARLES ST)
JUNGLE HOSTEL (138 Grafton St)
Kaplan Aspect Formerly International House (130 McLeod Street )
KENTUCKY FRIED CHICKEN(MARTYN ST)
KEWARRA BEACH RESORT
KEWARRA BEACH SHOPS
KOALA COURT (147 MCLEOD ST)
KOALAS LAKE CENTRAL (137 LAKE ST)
LAKE PLACID CAR PARK
LAKE PLACID SHOPS
LAKE PLACID VAN PARK
Lazy Duck Backpackers (136 GRAFTON ST) formerly Woodduck
LAZY LIZARD 121 Davidson Street
LE CHER DU MONDE (34 Macrossan St Port Douglas)
LEICHHARDT MOTEL
LEISURE WHEELS
LYCHEE TREE
MACROSSAN HOUSE (19 MACROSSAN ST PORT DOUGLAS)
Mad Monkey (formely Bohemia Central)
MAD MONKEY BACKPACKERS VILLAGE 141 Sheridan St
MAD MONKEY WATERFRONT @ Night Markets Abbot St
MANDALAY APARTMENTS( CNR GARRICK AND BERYL ST PD)
Mango Lagoon (81-85 Cedar Rd Palm Cove)
MANGO TREE
MANTRA ESPLANADE (53-57 THE ESPLANADE)
MANTRA HERITAGE PORT DOUGLAS
MANTRA INN THE VILLAGE
MANTRA ON THE INLET PORT DOUGLAS (cnr Macrossan & Wharf ST)
MANTRA TRILOGY RESORT
MARINA MIRAGE
MARINA TERRACES (14 Davidson St Port Douglas)
MARLIN COVE RESORT (TRINITY)
MARLIN GATEWAY APARTMENTS
MARLIN WATERS (131-133 WILLIAMS ESP PALM COVE)
MARTIN COLLEGE
MARTINIQUE (66 Macrossan Street Port Douglas)
MCDONALDS WOREE
Mediterranean (9 Port Douglas Rd)
MELALEUCA RESORT (85-93 Williams Esplanade PALM COVE)
MERIDIAN 15-17 Davidson Street
MID CITY LUXURY APARTMENTS (6 MCLEOD ST)
MOWBRAY BY THE SEA
MUMMA'S HOSTEL 140 Grafton St
NAUTILUS (69-71 Davidson St)
New Chalon (702 Bruce Hwy - near old drive in)
NEW PORT HOTEL (16 Macrossan Street)
NIMROD (31 NAUTILUS ST PORT DOUGLAS)
Niramaya Formerly Bale SOUTHBOUND (1 Bale Drive Port Douglas)
NOMADS SERPENT HOSTEL & BAR (341 LAKE ST)
NORTH COVE WATERFRONT SUITES (LAKE ST ENTRANCE)
Novotel CAIRNS OASIS RESORT (122 LAKE ST)
OAK BEACH
OAKS LAGOONS (CNR LANGLEY RD AND PD RD)
OAKS LAGOONS (CNR LANGLEY RD AND PD RD) (S BOUND)
OAKS RESORT (old qt resort 79 -109 Port Douglas Road)
OASIS AT PALM COVE
OASIS INN (276 SHERIDAN ST)
Ocean Spray 27 Simms Esplanade Yorkeys Knob
Outback Opal Mine (20-24 Alexandra St Clifton Beach)
OUTER REEF APARTMENTS (7 Sand St Port Douglas)
PACIFIC CAY (193 Sheridan St)
PACIFIC INTERNATIONAL (CNR ESPL AND SPENCE ST)
PALM COVE COUNCIL VAN PARK
PALM COVE RETREAT
PALM COVE TROPIC APARTMENTS
PALM COVE VAN PARK (COUNCIL)
PALM ROYALE (7-11 CHESTER COURT OFF MCCOMBE ST)
PALM VILLAS (40 WARNER STREET PORT DOUGLAS)
PANDANUS CARAVAN PARK
PARADISE GARDENS CARAVAN RESORT
PARADISE LINKS RESORT (Nautilus Street)
PARADISE ON THE BEACH (119 Williams Esplanade Palm Cove)
Paradise Palms Resort Kewarra Beach
PAULS PARACHUTING
PENINSULA HOTEL (9-13 The Esplanade Port Douglas)
PEPPERS BEACH CLUB (123 Williams Esplanade PALM COVE)
PEPPERS BEACH CLUB PORT DOUGLAS
Piermode (2 Lake St)
PINK FLAMINGO
PIZZA HUT TAKEAWAY (CNR AUMULLER ST)
PLANTATION RESORT PORT DOUGLAS (CRAIGLEE)
Please select pickup
Pool Port Douglas (19-37 St Crispins Ave Port Douglas)
PORT CENTRAL (36 MACROSSAN STREET)
PORT DOUGLAS APARTMENTS
PORT DOUGLAS BACKPACKERS (37 Warner St)
PORT DOUGLAS BAY VILLAS 51-53 DAVIDSON ST
PORT DOUGLAS BEACHCOMBER
PORT DOUGLAS BEACHES Opp Surf Lifesaving Club on Esplanade
PORT DOUGLAS BOAT HOUSE
PORT DOUGLAS CASTAWAY
PORT DOUGLAS CORAL APARTMENTS
PORT DOUGLAS METRO SUITES
PORT DOUGLAS MOTEL
PORT DOUGLAS OUTRIGGER
PORT DOUGLAS QUEENSLANDER (8-10 Mudlo Street)
PORT DOUGLAS RETREAT (31-33 Mowbray St)
PORT DOUGLAS SANDS RESORT
PORT DOUGLAS TERRACE
PORT LINKS RESORT
PORT O CALL (Cnr Port Street & Craven Close)
PORTSEA RESORT (76 DAVIDSON STREET PORT DOUGLAS)
Pullman Cairns International ( Formerly The Sebel Cairns) (17 ABBOTT ST)
PULLMANS HOTEL CASINO (35/41 WHARF ST)
QCWA Holiday Units (258 Grafton St Opp Cns High Oval)
QT Port Douglas (79-109 Port Douglas Rd)
QUEENS COURT (167/171 SHERIDAN ST)
QUEENSLAND RAIL
RAINBOW MOTOR INN (179 SHERIDAN ST)
RAINFOREST GROVE (Moody ST)
Raintrees Shopping Centre BUS STOP
RAMADA PORT DOUGLAS
Ramanda Resort Port Douglas Formerly Tree Tops Resort (316 PORT DOUGLAS ROAD)
RED BERET
Reef Backpackers
REEF CLUB (62-64 Davidson Street Port Douglas)
REEF FLEET TERMINAL BUS STOP 3 (SPENCE ST SIDE)
REEF GATEWAY (239 LAKE ST)
REEF HOUSE (PALM COVE)
REEF PALMS (41-47 DIGGER ST)
REEF RETREAT (PALM COVE)
REFLECTIONS
REGAL ON MACROSSAN
REGENCY PALMS (219-225 McLeod St)
RENDEZVOUS 121 PORT DOUGLAS ROAD
RILEY CRYSTALBROOK 209-217 Abbot St
RING TO CONFIRM 1800 801 540
ROYAL PALMS (184 MCLEOD ST)
RYANS REST (18 TERMINUS ST)
RYDGES ESPLANADE RESORT CAIRNS
RYDGES PLAZA (cnr Grafton and Spence St)
RYDGES SABAYA PORT DOUGLAS
RYDGES TRADEWINDS HOTEL
SALT WATER APPARTMENTS (30 MACROSSAN ST PORT DOUG)
SAME AS PARENT
SANCTUARY PALM COVE 6 Cedar Rd
Sands Resort Port Douglas
SARAYI THE TEMPLE OF THE REEF (PALM COVE)
SEA TEMPLE PALM COVE
SEA TEMPLE PORT DOUGLAS
SEA TEMPLE PORT DOUGLAS MITRE STREET
SEE NOTES
SEE NOTES (PORT DOUGLAS)
SHANGRI LA HOTEL (Pier Shopping Center)
Shantara Resort and Spa (27-31 Davidson Street Port Douglas)
SHERATON MIRAGE (Port Douglas)
SHERIDAN RENT A CAR (36 WATER ST)
SILVER PALMS (ESPLANADE)
Silverster Palms @ Oasis at Palm Cove
SKYDIVE CAIRNS (82 Grafton St)
SKYRAIL
SLEEPING WITH THE ENEMY (77MCLEOD ST)
SMITHFIELD BUS STOP
SOUTH PACIFIC BNB (18 Gibson Close Clifton Beach)
SOUTHERN CROSS ATRIUM APPARTMENTS
SPINDRIFT
STRATFORD SHOPS (CNR KAMERUNGA ROAD & DALGETTY ST)
SUGARLAND CAR RENTALS
SUNLAND CARAVAN PARK
SUNRAY GUEST HOUSE
SUNSEEKER (7 Garrick St Port Douglas)
SUNSET TERRACES
SUNSHINE TOWERS (130 -140 Sheridan St)
TAFE EUREKA STREET
TBA
THALA BEACH RESORT
THE ABBOTT (69 Abbott St)
THE ACCOMMODATION CENTRE
THE BALINESE 215 Lake St
THE GROVE (211 SHERIDAN ST)
The Jack Hotel (Formerly Shennanigans) (48 SPENCE STREET)
THE LAKES (ALL pick ups now from GREENSLOPES STREET)
THE NORTHERN GREENHOUSE (117 GRAFTON STREET)
THE PAVILLIANS (35 Macrosson St Port Douglas)
THE PENINSULA PORT DOUGLAS
THE VILLAS PALM COVE (24 WARREN ST)
THE YORK (YORKEYS KNOB)
TI TREE
TJAPUKAI
TOPLESS CAR RENTALS
TRADEWINDS MCLEOD
TRAVELLERS OASIS HOSTEL (8 SCOTT ST)
TRINITY BAY HIGH (EUREKA ST)
TRINITY LINKS
Trinity Wharf
TRITON LODGE
TROPIC BREEZE (24 Davidson St Port Douglas)
TROPIC DAYS (28 BUNTING ST)
TROPIC SANDS (CNR MOWBRAY AND DAVIDSON ST PORT D)
TROPIC TOWERS (294 - 298 SHERIDAN ST)
TROPICAL GARDENS RESORT (314 Mulgrave Rd)
TROPICAL HERITAGE MOTEL (8 MINNIE STREET)
TROPICAL NIGHTS (119 DAVIDSON ST PORT DOUGLAS)
TROPICAL QUEENSLANDER (287 LAKE ST - Cnr Lake & McKenzie)
TROPICAL REEF (10 Davidson St Port Douglas)
TROPICANA LODGE (YAL) (158 Martyn ST)
TURTLE COVE RESORT
VACATION VILLAGE
VACATION VILLAS
VERANDAS (7 Davidson St Port Douglas)
VILLA HEMMINGWAY
VILLA MARINE
VILLA PARADISO
VILLA SAN MICHELLE
VILLA SHANGRI-LA (288 SHERIDAN ST)
VILLA VAUCLUSE (141 Grafton Street)
Vision Appartments(114 Abbot Street)
VISION CAIRNS
WATERFRONT TERRACES (LAKE STREET)
WATERS EDGE (144 ABBOTT ST)
WHISPERING PALMS (Port Douglas)
WHITEHOUSE
WILDLIFE HABITAT
YHA CAIRNS CENTRAL (20-26 MCLEOD ST)
YORKEYS POST OFFICE
Z RING TO CONFIRM 1800 801 540
Child up to 12 years:
AUD $
149
Check Availability

Instant confirmation

Add

ed

to wishlist
Best Price Guarantee

Free & Easy Cancellation

Up to 10% Cashback

100,000 5 Star Reviews