Go Wild Cape Tribulation Tour

Cairns, Australia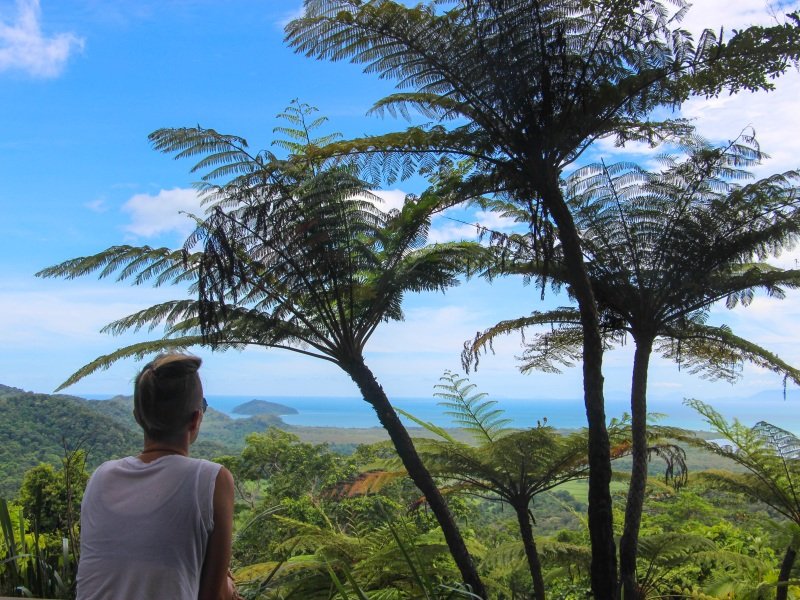 Child up to 8 years:
AUD $
93
Next available:
24 Sep 2021

Instant confirmation
What's Included
Tropical lunch Transfers, cruise Guide
WHAT TO EXPECT
Enjoy the scenic journey along the Great Barrier Reef Drive from Cairns to Port Douglas Enjoy Daintree river cruise Enjoy Daintree river cable ferry Experience Rainforest boardwalk Visit Cape Tribulation Beach

The best of Cape Tribulation and the Daintree, with guided walks, lunch and guaranteed wildlife spotting at our immersion exhibit, Wildlife Habitat. You will also have the opportunity to look for wildlife in the rainforest and on the Daintree River throughout the day.

07:00: Commence pickups from Cairns accommodation. 07:45: Depart Cairns. Travel to Port Douglas via the Captain cook highway, one of Australia's most scenic coastal drives. 08:10: Commence pickups from Port Douglas accommodation. 08:45: Arrive at Wildlife Habitat. See the endangered cassowary and other wildlife, with the opportunity to have your photo taken holding a Koala, Snake or Crocodile extra cost. Spending more time in the region. You are entitled to a re-entry pass for Wildlife Habitat valid for the next 4 days ask at reception before you leave to get your pass. Upgrade to Morning Tea for 10 AUD or upgrade to Breakfast With the Birds for 23 AUD. 10:00: Depart Wildlife Habitat. 11:00: Cross the Daintree River on the cable-driven ferry. Travel along the rainforest-fringed Cape Tribulation Road through the Daintree National Park, a magnificent wilderness region. 12:15: Arrive at Cape Trib Beach House for a Tropical lunch, followed by free time for a swim in the resort pool, or a walk along the spectacular Cape Tribulation Beach. 13:00: Depart Cape Trib Beach House and visit Cape Tribulation Beach and Boardwalk for a guided rainforest walk with great photo opportunities. 14:35: Depart Cape Tribulation for the return journey, with some comfort stops along the way. 15:35: Stop at Alexandra Lookout for magnificent views. 16:00: Depart north side of the river for the Daintree River Cruise. Search for crocodiles, birds and other wildlife as you journey through the mangroves. 17:00: Arrive south side of the river. 18:00: Arrive at Port Douglas accommodation. 19:00: Arrive at Cairns accommodation.
Go Wild Cape Tribulation Tour
11:00AM - 12:00PM

Monday, 29-04-2016

11:00 AM - 12:00PM

How many participants are there?

Child up to 8 years

:

AUD $

93
*Top Deals and Last Minute deals pricing is available for limited spaces
Terms & Conditions:
What to bring: Bottle of water, money for drinks and snacks, your ticket, Hat, camera, water-resistant sunscreen, insect repellent, swimming costume and towel. What to wear: Comfortable clothes and walking shoes. Conditions: Children aged 4 to 14 pay child price. Tour requires up to 28 passengers to go ahead. All day tours depart daily except Christmas day and the day of the annual Ironman event held in June. Jungle Surfing is closed New Year's day. We will make reasonable attempts to accommodate the special needs of disabled customers, however, we are not responsible in the event we are unable to accommodate your needs. A vegetarian or vegan meal is available. Restrictions: Children under the age of 4 are not permitted to travel with Jungle tours and trekking. Not included: Opportunity to have your photo taken holding a koala, snake or crocodile extra cost.
181 ESPLANADE APARTMENTS - LAKE ST SIDE
201 LAKE STREET APTS (PICK UP RYDGES ESPLANADE)
ACACIA COURT - PU LAKE ST.
ACCENT ON MCLEOD
ADOBE MOTEL
Show all pickup locations
181 ESPLANADE APARTMENTS - LAKE ST SIDE
201 LAKE STREET APTS (PICK UP RYDGES ESPLANADE)
ACACIA COURT - PU LAKE ST.
ACCENT ON MCLEOD
ADOBE MOTEL
AGINCOURT APARTMENTS - CLIFTON BEACH
Alamanda Palm Cove by Lancemore
ALASSIO ON THE BEACH- PALM COVE
AMPHORA RESORT (Amphora St) - PALM COVE
ANDERSON AND TRINITY - CORNER TRINITY BEACH
API Units, Clifton Beach
AQUARIUS APARTMENTS
ARGOSY - CLIFTON BEACH
ASPECT CENTRAL
ASYLUM BACKPACKERS
BALBOA - PORT DOUGLAS
BALINESE
BARRON RIVER HOTEL, STRATFORD
BAY VILLAGE - GATTON ST SIDE
BAY VILLAS RESORT - PORT DOUGLAS
BEACH CLUB AND SPA (Peppers, was outrigger p/cove)
BEACH TERRACES PORT DOUGLAS
BEACH VILLAS PORT DOUGLAS
BEACHES AT HOLLOWAYS BEACH - HOLLOWAYS
BEACHES PORT DOUGLAS (The Esplanade)
BEACHFRONT HIDEWAY, HOLLOWAYS
BEST WESTERN CENTRAL PLAZA, LAKE ST
BEST WESTERN PLUS (Cairns Central Plaza Apartments), MCLEOD ST
BIG MARLIN STOCKLAND
BOATHOUSE - PORT DOUGLAS
BOHEMIA RESORT
BREAKFREE ROYAL HARBOUR - PICKUP OUTSIDE NIGHT MARKET ABBOTT ST BUS STOP
BY THE SEA PORT DOUGLAS
CAIRNS BEACH HOUSE - PU SHERIDAN ST.
CAIRNS BEACH RESORT, HOLLOWAYS
Cairns City Apartments - Pick up YHA Central
CAIRNS CITY BACKPACKERS, DRAPER ST
CAIRNS CITY MOTEL
CAIRNS CITY PALMS (WAS HIGH CHAPARELL)
CAIRNS COLONIAL CLUB RESORT
CAIRNS GATEWAY RESORT
CAIRNS GIRLS HOSTEL, LAKE ST
CAIRNS HOLIDAY LODGE, SHERIDAN ST
CAIRNS HOLIDAY PARK, LITTLE ST
CAIRNS PLAZA HOTEL, ESPLANADE
CAIRNS QUEENSLANDER, LAKE ST
CAIRNS RAILWAY STATION, BUNDA ST
CAIRNS REEF APARTMENTS & MOTEL
CAIRNS SHARE HOUSE, DRAPER ST
CAIRNS SHARE HOUSE, SCOTT ST
CAIRNS SHERIDAN HOTEL, MCLEOD ST
CAIRNS SOUTHSIDE (was RAINBOW SOUTHSIDE)
CAIRNS VILLA & LEISURE PARK
CALYPSO INN
CAMPUS SHPG VLGE (KFC SIGN MCGREGOR ROUNDABOUT
Cancelled Passengers
CARAVELLA BACKPACKERS, ESPLANADE
CARAVELLA CENTRAL, GRAFTON ST
CASCADE GARDEN APARTMENTS
CASTAWAYS BACKPACKERS, SHERIDAN ST
CASTLE HOLIDAY FLATS - OPP RYDGES ESP EXIT
CAYMAN VILLAS PORT DOUGLAS
CENTRAL HOTEL PORT DOUGLAS
CENTRAL PLAZA - PORT DOUGLAS
CITY PLAZA APARTMENTS
CITY SHERIDAN CAIRNS
CITY TERRACES (WAS COMFORT INN SUITES CITY TERRACES)
CITYSIDER APARTMENTS, UPWARD ST
CLIFTON GARDENS
CLIFTON SANDS HOLIDAY UNITS CLIFTON BEACH
CLIFTON VILLAGE SHOPS - CLIFTON BEACH
CLUB TROPICAL - PORT DOUGLAS
COAST WATCHER SHOPS - TRINITY BEACH
COCONUT CARAVAN RESORT
COCONUT GROVE - PORT DOUGLAS
COMFORT INN DISCOVERY CAIRNS
COOLWATERS VAN PARK
CORAL APARTMENTS - PORT DOUGLAS
CORAL BEACH LODGE & BACKPACKERS (was PortOCall)
CORAL HORIZONS - PALM COVE
CORAL REEF APARTMENTS
CORAL SANDS RESORT - TRINITY BEACH
CORAL SEA VILLAS - PORT DOUGLAS
CORAL TOWERS, MCKENZIE ST
CORAL TREE INN, GRAFTON ST
CRYSTAL GARDENS RESORT
DOUBLE TREE BY HILTON - ABBOTT ST SIDE
DOUGIES BACKPACKERS - PORT DOUGLAS
DREAMCATCHER APTS - PORT DOUGLAS
DREAMTIME TRAVELLERS REST, BUNDA STREET
DRIFTWOOD MANTARAY - PORT DOUGLAS
DUNWOODY''S TAVERN
EL DORADO - OPP HOSPITAL
ELLIS BEACH VAN PARK
ELYSIUM APTS, PALM COVE
ESPLANADE VUES - BELLVIEW BUS STOP
Failed To Load Pax
FIRST CITY CARAVILLA VAN PARK
FLORIANA GUEST HOUSE
FLYING MONKEY - BELLVIEW BUS STOP
FREESTYLE RESORT - PORT DOUGLAS
GARRICK HOUSE - PORT DOUGLAS
GECKO'S BACKPACKERS, BUNDA ST
GETAWAY ON GRAFTON - JUST PAST ASYLUM B/PACKERS
GILLIGANS BACKPACKERS RESORT
GLENGARRY CARAVAN PARK (OUTSKIRTS OF PORT DOUGLAS)
GLOBAL BACKPACKERS - PORT DOUGLAS
GLOBAL CENTRAL (PICK UP GOLDEN BOAT/PALM COURT LAKE ST)
GLOBAL WATERFRONT BACKPACKERS - BELLVIEW BUS STOP
GLOBETROTTERS INTERNATIONAL (PICK UP RYDGES ESPLANADE)
GRAND MERCURE ROCKFORD (OLD CLARION)
Greyhound Bus Terminal (Reef Fleet Terminal at bays 14-16)
GROSVENOR HOTEL, CNR MCLEOD & GROVE ST
HARBOUR LIGHTS
HIBISCUS GARDENS - PORT DOUGLAS
HIDES HOTEL - PICK UP AT LAKE 67 COMMERICAL VEHICLE BAY
HILTON HOTEL
HOLIDAY INN CAIRNS HARBOURSIDE - LAKE ST SIDE
HOTEL CAIRNS, FLORENCE ST
HOTEL GRAND CHANCELLOR (check that it is not SEBEL PALM COVE)
HUNGRY JACKS - MULGRAVE ROAD
IBIS STYLES CAIRNS
IL CENTRO
IL PALAZZO
Inn Cairns Boutique Apartments - PICK UP AT LAKE 67 COMMERICAL VEHICLE BAY
JACK & NEWELL APARTMENTS - PICK UP AT PULLMAN INTERNATIONAL
JAZZ BACKPACKERS - BELLVIEW BUS STOP
JCU UNI UNDERPASS BUS STOP, SMITHFIELD
JJS BACKPACKERS, CHARLES ST
KAPLAN ASPECT
KENTUCKY FRIED CHICKEN
KEWARRA BEACH RESORT - KEWARRA
KEWARRA BEACH SHOPS - JUST OFF HIGHWAY
KOALA BEACH RESORT, LAKE ST
KOALA COURT
LAKE PLACID VAN PARK
LATITUDE 16 BEACHES - PORT DOUGLAS
LAZY DUCK BACKPACKERS
LAZY LIZARD - PORT DOUGLAS
LE CHER DU MONDE - PORT DOUGLAS
LILYBANK
LYCHEE TREE HOLIDAY UNITS - PORT DOUGLAS
MACHANS BEACH SHOPS - MACHANS
MACROSSAN HOUSE - PORT DOUGLAS
MAD MONKEY (was BHA Cantral)
MAD MONKEY WATERFRONT - PICKUP NIGHT MARKETS BUS STOP (ABBOTT ST)
MANDALAY SHALIMAR APTS - PORT DOUGLAS
MANGO LAGOON, PALM COVE
MANGO TREE - PORT DOUGLAS
MANTRA AQUEOUS - PORT DOUGLAS
MANTRA HERITAGE RESORT - PORT DOUGLAS
MANTRA IN THE VILLAGE - PORT DOUGLAS
MANTRA ON THE ESPLANADE
MANTRA ON THE INLET - PORT DOUGLAS
MANTRA PORTSEA - PORT DOUGLAS
Mantra TRILOGY - PU ABBOTT ST
MARINA TERRACE - PORT DOUGLAS
MARLIN COVE QUEST - TRINITY BEACH
MARLIN WATERS - PALM COVE
MARTINIQUE ON MACROSSEN - PORT DOUGLAS
MELALEUCA RESORT - PALM COVE
MERIDIAN - PORT DOUGLAS
MID CITY APARTMENTS
MOORE & TRINITY BUS STOP - Trinity Beach
MOWBRAY BY THE SEA - PORT DOUGLAS
NAUTILUS APTS - PORT DOUGLAS
NEW CHALON CAIRNS
NEWPORT - PORT DOUGLAS
NIGHT MARKETS - ABBOTT ST BUS STOP
NIMROD APARTMENTS - PORT DOUGLAS
NJOY TRAVELLERS REST
NOMADS SERPENT HOSTEL, LAKE ST
NORTH COVE APARTMENTS - Lake St Side
NORTH TERRACES - PORT DOUGLAS
NORTHERN GREENHOUSE
NOVOTEL OASIS RESORT
OAKS LAGOONS - PORT DOUGLAS
OASIS AT PALM COVE
OASIS INN
Offload Passengers
OUTRIGGER - PORT DOUGLAS
PACIFIC HOTEL
PACIFIC SANDS, HOLLOWAYS
PALM COVE TROPIC APARTMENTS
PALM COVE VAN PARK
PALM ROYALE - PU AT BUS SHELTER
PALM VILLAS - PORT DOUGLAS
PANDANUS CARAVAN PARK - PORT DOUGLAS
PARADISE LINKS
PARADISE ON THE BEACH - PALM COVE
PARADISE PALMS RESORT & COUNTRY CLUB (Club House/Golf Shop)
PARINGA - PALM COVE
PARK REGIS CITY QUAYS
Park Regis PIERMONDE
PD CORAL BEACH LODGE
PDNIRAMAYA VILLAS AND SPA
PDPLANTATION RESORT
PDPOOL RESORT
PDPORT DOUGLAS B&B
PDPORT DOUGLAS BACKPACKERS
PDPORT DOUGLAS TERRACES
PDPORT DOUGLAS TOURIST INFORMATION CENTRE
PDRAMADA RESORT - PORT DOUGLAS (was Treetops Resort)
PDREEF CLUB RESORT - PORT DOUGLAS
PDREFLECTIONS OF PORT DOUGLAS
PDREGAL PORT DOUGLAS (Reception Owen St)
PDSea Temple Resort & Spa
PDSHERATON MIRAGE RESORT - PORT DOUGLAS
PDSUNSEEKER HOLIDAY UNITS - PORT DOUGLAS
PDTALOFA APARTMENTS - PORT DOUGLAS
PDTHE MERIDIAN AT PORT DOUGLAS
PDTHE PAVILLIONS BOUTIQUE HOLIDAY APARTMENTS
PDTI TREE RESORT - PORT DOUGLAS
PDTROPIC BREEZE VAN PARK - PORT DOUGLAS
PDTROPIC SANDS PORT DOUGLAS
PDTROPICAL NITES - PORT DOUGLAS
PDTROPICAL REEF APARTMENTS - PORT DOUGLAS
PDTURTLE COVE - SOUTH OF PORT DOUGLAS
PDVACATION VILLAGE - PORT DOUGLAS
PDVERANDAHS PORT DOUGLAS
PDVILLA SAN MICHELE APARTMENTS - PORT DOUGLAS
PDWHITE HOUSE - PORT DOUGLAS
PDWILDLIFE HABITAT - PORT DOUGLAS
PELICAN MOTEL - PORT DOUGLAS
PENINSULA HOTEL - PORT DOUGLAS
PEPPERS BEACH CLUB - PORT DOUGLAS
PICKUP TO BE ADVISED
PICKUP TO BE ADVISED Ex NB
PICKUP TO BE ADVISED Ex PD
PINK FLAMINGO - PORT DOUGLAS
PLEASE ENTER MUST COLLECT TICKET IN TKT FIELD
PORT DOUGLAS APARTMENTS
PORT DOUGLAS MOTEL
PORT DOUGLAS QUEENSLANDER
PORT DOUGLAS RETREAT
PORT DOUGLAS SANDS
PREPAY AGENT - COLLECT C/CARD DETAILS
PULLMAN CAIRNS INTERNATIONAL
QCWA APARTMENTS (QLD COUNTRY WOMENS ASSOCIATION)
QT PORT DOUGLAS
QUEENS COURT - OPP CAIRNS STATE HIGH SCHOOL
RAINBOW INN
REEF BACKPACKERS
REEF CASINO HOTEL - PU CASINO ENTRANCE
REEF GATEWAY, LAKE ST
REEF HOUSE (M Gallery Collection) - PALM COVE
REEF PALMS MOTEL
REEF RESORT PORT DOUGLAS - BY RYDGES
REEF RETREAT - PALM COVE
REGENCY PALMS
RETREAT - PORT DOUGLAS
ROYAL PALM VILLAS
RYAN'S REST
RYDGES ESPLANADE
RYDGES PLAZA, GRAFTON ST
RYDGES TRADEWINDS, ABBOTT ST
SANCTUARY - PALM COVE
SANDS RESORT - PORT DOUGLAS
SARAYI - PALM COVE
SEA TEMPLE PALM COVE
SEBEL PALMCOVE- P'up HOTEL GRAND CHANCELLOR
Select Pick up Location
SHANGRI-LA
SHANTARA SPA & RESORT - PORT DOUGLAS
SHOWGROUNDS BUS STOP (OUTSIDE MAIN ENTRANCE)
SILVESTER PALMS - PALM COVE
Skyrail Smithfield Terminal
SMITHFIELD BUS STOP - Captain Cook Hwy (Woolworths End)
SMITHFIELD BUS STOP - KENNEDY HIGHWAY (Opposite Woolies)
SMITHFIELD SHELL SERVO
SOUTHERN CROSS ATRIUM APTS - NORTH OF CAIRNS CENTRAL
STRATFORD POST OFFICE
SUNLAND VAN PARK - PU FROM BUS STOP ON PEASE ST
SUNRAY BACKPACKERS
SUNSHINE TOWERS
SURYA VILLA - PORT DOUGLAS
THALA BEACH LODGE - SOUTH OF PORT DOUGLAS
THE ABBOTT (WAS GREAT NORTHERN)
THE JACK HOTEL
THE LAKES - PU GREENSLOPE ST
THE MEDITERANEAN - PORT DOUGLAS
THE REEF MARINA (WAS MARINA MIRAGE) - PORT DOUGLAS
THE SANCTUARY - PALM COVE
THE VILLAS - PALM COVE WAS PALM BEACH VILLAS
TRADEWINDS MCLEOD
TRAVELLERS OASIS - JUST BEFORE BUNDA ST.
TRINITY BEACH PACIFIC - TRINITY BEACH
TRINITY BEACH TROPIC SUN HOLIDAY UNITS- TRINITY BEACH
TRINITY LINKS (WORLDMARK)
TROPIC DAYS
TROPIC SUNRISE
TROPIC TOWERS APARTMENTS
TROPIC WINGS DEPOT
TROPICAL GARDENS RESORT
TROPICAL HERITAGE MOTEL
TROPICAL QUEENSLANDER - PU LAKE ST.
TROPICANA LODGE
UNITED BACKPACKERS (was Parrot Fish Lodge) - PORT DOUGLAS
VILLA PARADISO, PALM COVE
VILLA SHANGRILA, SHERIDAN ST
VILLA VAUCLUSE
VISION APTS - P'UP FROM DOUBLETREE
WATERFRONT BACKPACKERS - BELLVIEW BUS STOP
WATERFRONT TERRACES - PU LAKE ST.
WATERS EDGE APTS (pup Esplanade)
WESTCOURT TAVERN
WHITE ROCK LEISURE PARK
Wildlife Habitat
WOODDUCK BACKPACKERS (WAS ROSIES)
YHA CENTRAL
ZPICKUP TO BE ADVISED
Child up to 8 years:
AUD $
93
Check Availability
Next available:
24 Sep 2021

Instant confirmation

Add

ed

to wishlist
Best Price Guarantee

Free & Easy Cancellation

Up to 10% Cashback

100,000 5 Star Reviews