2 Day1 Night Oceanquest PADI Advanced Open Water Course

Cairns, Australia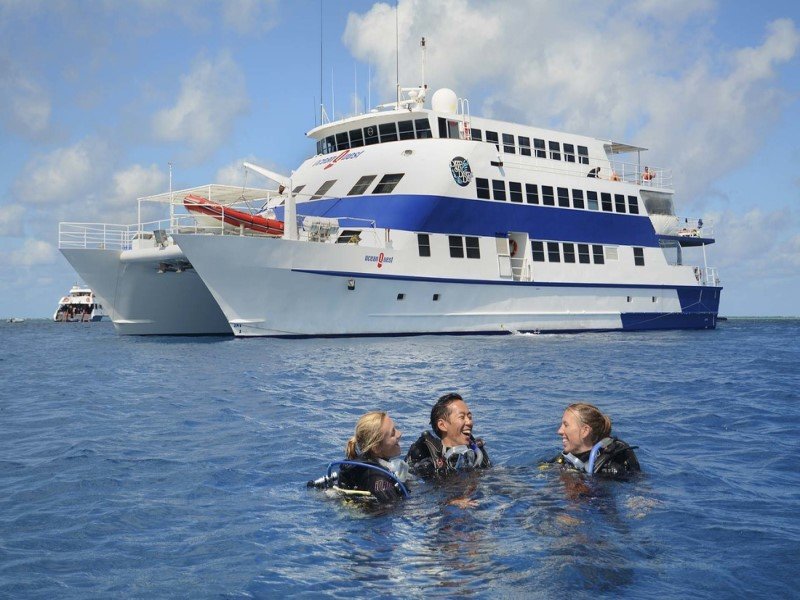 or 6 weekly interest free payment from
$139.17
with

Next available:
24 Sep 2021

Instant confirmation
What's Included
1 night accommodation: Onboard Oceanquest Open water certification Answering all statements in the self-assessed medical declaration form
WHAT TO EXPECT
Exploring the Great Barrier reef Experience PADI advanced open water program Enjoy multi-night liveaboard trip

Once you have completed your PADI Open Water Course the next step is to select the PADI Advanced Open Water Program. The good news is that there are no formal classroom sessions with this PADI course. The only academic work required is to read the relevant chapters in the PADI Adventures in Diving Manual and complete the knowledge reviews at the end of each chapter.

You will need a minimum of two days and one night to complete your PADI Advanced Open Water Course but you can also stretch the fun out on a multi-night liveaboard trip. The 2 days 1-night option will give you 5 training dives and 2 fun dives and the 3 days 2-night option will allow for 5 training dives and 7 fun dives. You will need proof of certification as you cannot complete your Advanced Open Water without it. This page is for those who are focusing on obtaining just their Advanced Open Water. If you wish to spend more time exploring the Great Barrier Reef aboard our luxury liveaboard OceanQuest, our liveaboard booking system offers the PADI Advanced Course as an optional extra that can be added to any Liveaboard Trip (select only the advanced option as this will include your certified dives)
2 Day1 Night Oceanquest PADI Advanced Open Water Course- Twin Cabin

Check Availability

Next available:

24 Sep 2021

2 Day1 Night Oceanquest PADI Advanced Open Water Course- Double Cabin

Check Availability

Next available:

24 Sep 2021
11:00AM - 12:00PM

Monday, 29-04-2016

11:00 AM - 12:00PM

How many participants are there?
*Top Deals and Last Minute deals pricing is available for limited spaces
Terms & Conditions:
What to bring: Swimsuit, hat, towel, sunscreen and sunglasses. Restrictions: You must be aged 10 or over to participate in introductory diving or open water dive certification training. Trip participants must be aged 18 or over to travel unaccompanied. Anyone younger than this must be supervised by an adult at all times. If the diver is under 12, we must be informed before the course starts, as a private instructor will be needed for the sea days. You need to Complete a Self Assessed Medical Declaration and a medical certificate if required. Ability to pass a 200m swim and 10-minute treading water test. Conditions: All scuba participants must meet medical questionnaire requirements. Some conditions or medications may prevent you from diving. Currently, the rules state that for a single no-decompression dive, you should not fly/go to altitude for at least 12 hours, or 18 hours after multiple dives. Divers Den recommends waiting a minimum of 24 hours whenever possible. These are guidelines only, there is no guarantee that these recommendations will prevent decompression sickness. There are no current guidelines regarding diving after flying. Altitude is defined as 300m/1000ft above sea level. Certain other tourist attractions around Cairns and Tropical North Queensland involve travelling to altitude. These include the Atherton Tablelands and the Skyrail Rainforest Cableway, so we recommend a gap between booking these experiences and any dive course or trip. Under normal circumstances, you should be out of the water on your last dive by 12:00 (midday) on overnight trips and about 14:00 on our day trips. NON-PADI Referral Courses: If you have completed the academic and confined water training with a certifying agency other than PADI, further training will be required before you can complete your Open Water dives with the PADI system. Please contact us for details.
181 ESPLANADE
186 LAKE STREET (GEORGE & DELPHINE)
201 LAKES ST
77 McLEOD ST (McLEOD BPACKERS)
A1 RENT A CAR
Show all pickup locations
181 ESPLANADE
186 LAKE STREET (GEORGE & DELPHINE)
201 LAKES ST
77 McLEOD ST (McLEOD BPACKERS)
A1 RENT A CAR
ABBEYS B & B
ACACIA COURT (BEST WESTERN)
ADOBE MOTEL
Agincourt Beachfront Aparts
alamanda palm cove
ALL SEASONS CAIRNS GATEWAY (VILLAGE) RESORT
Amaroo Resort
Amphora Resort
Angsana Resort
API Apartments
APOLLO MOTOR HOMES DEPOT
AQUARIUS
ARCADIA HOLIDAY UNIT
Argosy Resort
Aspect Central
ASYLUM (TRACKS)
ATS
AVIS RENT A CAR
BAILEY, CRYSTALBROOK RESORT COLLECTION
BALACLAVA HOTEL
BALACLAVA PRIMARY SCHOOL
BALINESE RESORT
BAY VILLAGE
Beach Front Lodge (Y K)
Beach Place Yorkies Knob
Beaches B and B
BELAIR
BELLEVUE AT TRINITY
BELLVIEW
Best Western Central Apartments
BEST WESTERN CENTRAL PLAZA
Best Western City Sheridan
BIG BACKYARD
BIG FISH (Stockland)
Billabong Caravan Park
BIRDWING Band B (P U EDGEHILL SCHOOL)
Blue Lagoon Trinity
Blue Waters
BOHEMIA CENTRAL (BHA)
BOHEMIA RESORT
BROTHERS LEAGUES CLUB
BUDGET RENT A CAR
BUNGALOW HOTEL
Cairns Beach Resort
CAIRNS BED & BREAKFAST
Cairns Central Plaza
CAIRNS CITY APARTMENTS
CAIRNS CITY BACKPACKERS
CAIRNS COCONUT VAN PARK
CAIRNS GIRLS HOSTEL
CAIRNS HOLIDAY LODGE
CAIRNS HOLIDAY PARK
Cairns Motel
CAIRNS MOTOR INN
Cairns One
CAIRNS PLAZA (Tuna Towers)
CAIRNS QUEENS COURT
CAIRNS QUEENSLANDER (267 Lk St)
CAIRNS REEF APPARTMENTS (METRO INN)
Cairns share house ( 80 Martyn Street)
Cairns Southside International Inn
CAIRNS SUNSHINE TOWERS
CAIRNS TROPICAL GARDENS MOTEL
CAIRNS VACATION VILLAS
CAIRNS VILLA and LEISURE PARK
CAIRNS WATERFRONT B/PACKERS - (Was Jimmys)
Cairns Work & Play
CALYPSO INN BACKPACKERS RESORT
CAPE YORK HOTEL
CARAVELLAS 149
Casablanca Domes
CASCADE GARDENS
CASINO (MAIN ENTRANCE)
CASTAWAYS
CASTLE HOLIDAY UNITS
CAZALYS
CELADON HOLIDAY HOUSE
CITY PLAZA APTS
CITY SIDER
CITY WALK APTS
CLARENDON ON SPENCE
Clarion (P C)
Clifton Gdns Hol
Clifton Palms Units
Clifton Sands Holiday Units
Clifton Village shops
Cocos Apts
COMFORT INN SUITES CITY TERRACES
Comfort Inn Cairns City
COMFORT INN CANNON PARK
COMFORT INN SUITES TRINITY BCH CLUB
COMPASS MOTEL
CONCORDE UNITS
CORAL CAY VILLAS
Coral Horizons
CORAL REEF APARTMENTS
Coral Sands Resort
CORAL TOWERS
CORAL TREE INN
CORONAS (CENTRAL CITY) BACKPACKERS
COSTA BLANCA
Costa Royale
Crystal Garden Resort & Restaurant
DREAMTIME
DSDD Shop (Liveaboard check-in)
EAST COAST RENTALS
EDGE APPARTMENTS
Edge Hill Galvin's B&B
EDGE HILL PO
EDGE HILL SCHOOL
EDGE HILL TAVERN
EL DORADO
Elysium Apartments
FERTILIZER WHARF (OFF DUTTON ST)
FIG TREE LODGE
FIRST CITY CARAVILLA
FLORIANA GUEST HSE
FLYING HORSESHOE
Flying Monkey
FOCUS ON SPENCE
GECKOS HOSTEL
GETAWAY (GRAFTON ST)
GILLIGANS
GIRLS HOSTEL
GLENLEE MOTEL
Global Central
GLOBAL WATERFRONT
GLOBETROTTER INT
Golden Sands (Ykys)
GRAND MERCURE ROCKFORD
Gray Whale Anchor Inn
GREAT NORTHERN
Green Tree Frog B&B
GROSVENOR
Half Moon Bay Marina
Half Moon Bay Resort
HERITAGE MOTEL
Hertz Car Rental
HIDES
HIGH CHAPERAL
HILTON
HOLIDAY INN
HOTEL CAIRNS
Hotel Grand Chancellor Palm Cove
HUNGRY JACKS (KMART W COURT)
Ibis Styles Cairns
Ibis Styles Cairns Colonial Club Resort
IL CENTRO
IL PALAZZO
INN CAIRNS
INN THE CITY
INN THE PINK
Jack & Newel Apartments
Jazz Backpackers
JJS BACKPACKERS HOSTEL
JOES CAR LOCK UP (ANDERSON ST)
KAPLAN ASPECT (Was IHQ)
Kewarra Bch Shops
KEWARRA BEACH B and B
KEWARRA BEACH RESORT
KINGFISHER APARTMENT
KOALA BEACH RESORT CAIRNS
KOALA COURT (Mc LEOD ST)
KOOKAS B and B
Lake Central Cairns
LAS PALMAS
Lazy Duck Backpackers
Machans Beach Post Office
Machans Beach School
MANGO LAGOON RESORT AND SPA
MANGO PARADISE APTS
MANTRA ESPLANADE (former Outrigger Espl.)
Mariner Gables
Marlin Cove Resort
Marlin Gateway Holiday Apartments
Mc LEOD ST BACKPACKERS
MERCURE HABOURSIDE
Meridien at Trinity
MID CITY LUXURY SUITES
MINDARRA HOLIDAY VILLAGE (WOREE V P)
NEW CHALON CAIRNS
Night Market Abbot Street side
NJOY
NORTH COVE APTS
NORTHERN GREENHOUSE
NOVOTEL CNS OASIS RESORT
OAKS PIERMONDE
Oasis at Palm Cove
OASIS INN
OCEAN BLUE (WOREE)
OCEANSPREY BEACHFRONT APTS.
On The Beach
Orchid Plaza - Abbot St entrance
Oyster Court
PACIFIC CAY
PACIFIC INTERNATIONAL
Palm Cove Camping Ground
Palm Cove Council VP
Palm Cove Holiday Park
Palm Cove info cntr
Palm Cove Lodge
Palm Cove Retreat
Palm Cove Sanctuary
Palm Cove Tropic Apt
PALM ROYALE
Paradise Gardens V P
Paradise on Beach
Paradise Palms Resort
PARK REGIS CITY QUAYS
Park Royal Apts
PARKVIEW
Peppers Beach Club and Spa
Petes Place
PLAZA PALMS
Poinsetia motel
Pullman International
QC WA Holiday Uinits
RAINBOW INN
RAINFOREST GROVE
REEF AND RAINFOREST BnB
Reef Backpackers
REEF GATEWAY
Reef House (Sebel)
REEF PALMS
Reef Retreat
REGENCY PALMS
Ribbons
RILEY, CRYSTALBROOK RESORT COLLECTION
ROYAL HARBOUR
ROYAL PALM VILLAS
Roydon Apts
Roydon Beachfront Holiday Apartment
RYANS REST
RYDGES ESPLANADE RESORT CAIRNS
RYDGES PLAZA CAIRNS
RYDGES TRADEWINDS CAIRNS
Safari Units
SAME AS PARENT
Sarayi Palm Cove
Sea Change
SEA TEMPLE PALM COVE
SEAPOINT ON TRINITY BEACH
Seashells
SEBEL HARBOUR LIGHTS
SERPENT RESORT (NOMADS)
SHANGRILA
SHERIDAN PALMS
SHERIDAN PLAZA
SHOWGROUNDS SHOPPING
SILVER PALMS
Silvester Palms
SKINNY DIPS
Smithfield KFC
SOUTH PACIFIC BnB
SOUTHERN CROSS ATRIUM APT
St Monicas
Sun Pacific College
SUNLAND VANPARK
SUNRAY B.P. GUEST HOUSE
SUNSET TERRACES
SUNSHINE TOWERS
The Beach Place
THE LAKES
The Mediterranean Beachfront Apartments
The Rose Room
The Sebel Palm Cove
THE VILLAS PALM COVE
TO BE ADVISED
TOOBRUK POOL
TRADEWINDS MCLEOD ST
TRAVELLERS CASTLE
TRAVELLERS OASIS
TRILOGY MANTRA RESORT
Trinity Beach B P
TRINITY BEACH BUS STOP
TRINITY BEACH CLUB
Trinity Beach Hol Park
Trinity Beach Hol Unit
Trinity Beach Hol Vill
Trinity Beach Pacific
TRINITY LINKS RESORT
Trinity On Esp
TRINITY PARK BUS STOP
Trinity Waters
TROPIC DAYS
Tropic Sun
TROPIC SUNRISE
TROPIC TOWERS
TROPICAL GARDEN RESORT
Tropical holiday units
TROPICAL QUEENSLANDER
UNION JACK
UP TOP DOWN UNDER
Villa Marine
Villa Paradiso
VILLA SHANGRI -LA
VILLA VACLUSE
VISION APARTMENTS
Waterfront Bacpackers
WATERFRONT TERRACES
WATERS EDGE APARTMENTS
WHITE ROCK LEISURE PARK
WOOD DUCK
WOREE VAN PARK (MINDARRA)
YHA - CENTRAL (MCLEOD)
Yorkeys Beach Bures
Yorkeys Boat club
Yorkeys Cove
Yorkeys Gem Rentacar
Yorkeys Knob bandb
Yorkeys knob marina
Yorkeys Knob PO
Yorkeys knob v park
Yorkies Beach Holiday Apartments
or 6 weekly interest free payment from
$139.17
with

Check Options
Next available:
24 Sep 2021

Instant confirmation

Add

ed

to wishlist
Best Price Guarantee

Free & Easy Cancellation

Up to 10% Cashback

100,000 5 Star Reviews