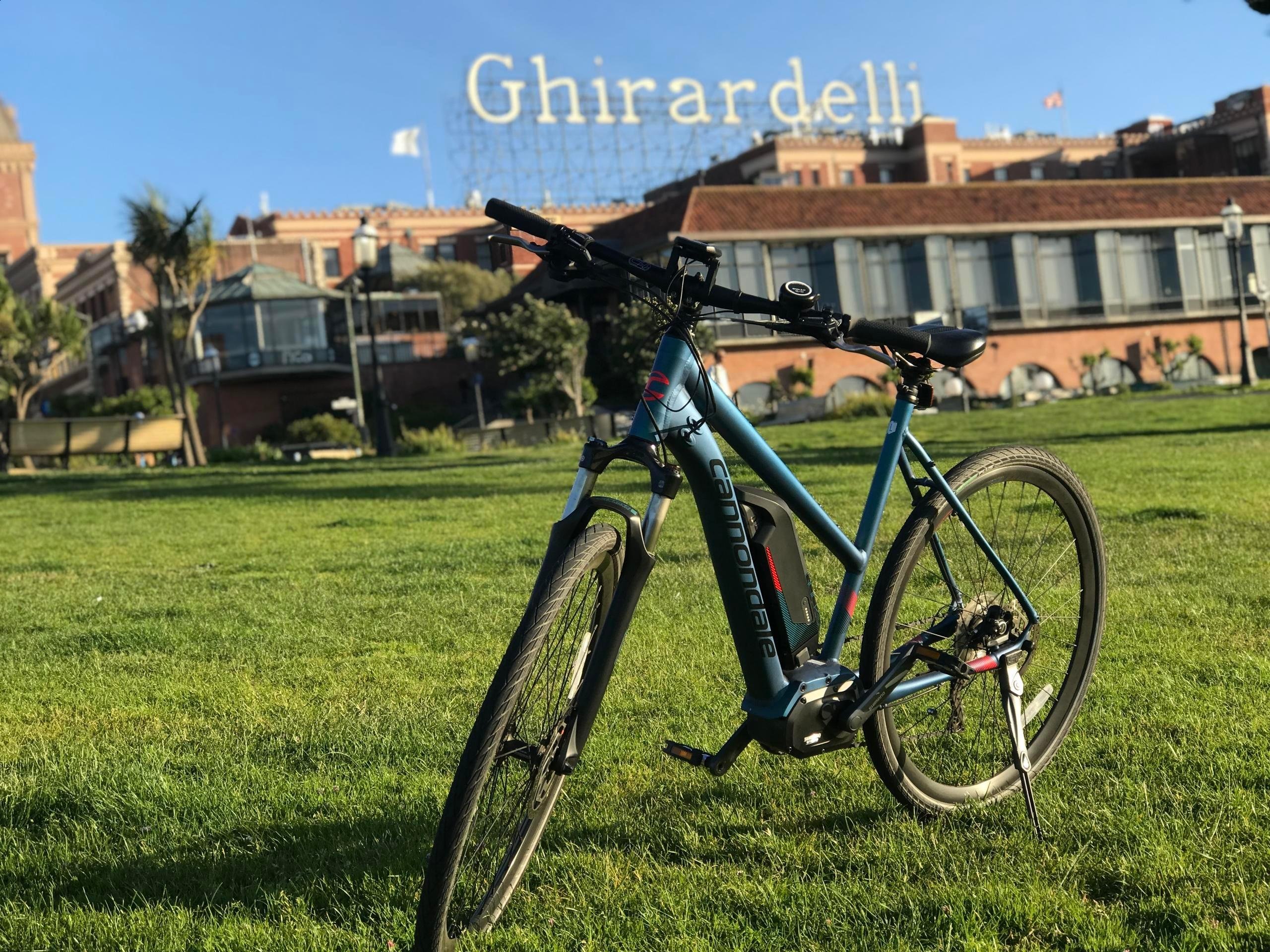 Four Hours Electric Bike:
USD $
45.57
DayPASS Electric Bike:
USD $
51.65

Instant confirmation
What's Included
Helmets
Baskets/Bike Bags
Locks
Illustrated Maps
WHAT TO EXPECT
San Francisco eBike Rentals

Unlimited Biking provides an excellent ride for any rider looking to boost their ride with our Cannondale eBike Rentals, and supply everything you need for your adventure! We supply a helmet and a bike lock, free of charge – you just supply the need to explore! We also offer private, custom bike tours. Email or call us if you are interested in a custom experience so we can detail what we can provide you.
Please bring along a valid identification and credit card with you, as these will be needed for security upon check-in for your rentals. Please be aware of our Store Hours, as bikes must be returned by closing time. If you planning to take the ebike on the ferry, use the blue & gold ferry as they allow ebikes on their fleet.
What to bring
Passport or ID card
Credit card
Tips
Dress appropriately for the weather and bring your camera!
Know Before You Go:
Any riders under 18 years of age must have an adult present to check in and sign the waiver form in behalf of them. We require a valid identity card upon check in.
For all our riders' safety, we are not able to accommodate any riders who are 300 pounds and over as this exceeds the weight limit the manufacturer has advised for the bike's build. We apologize for the inconvenience, but we do prioritize your safety during the ride.
If anything from the list above concerns you or any members of your party, please feel free to reach out to our team by responding to this email. We will get back to you as soon as we can!
COVID-19 Procedures
All staff and guests entering the store will be required to wear a face mask or face covering.
All bikes and equipment are sprayed down before and after each use.
There is a limit of guests allowed into each location at one time, dependent on the space.
Please refrain from joining us if you are not feeling well to help keep you and other guests safe.
Guests are expected to wear masks for part of the tour- especially entering public stops, and to stay 6 feet apart from other guests.
All bikes and equipment are sprayed down before and after each use.
San Francisco eBike Rentals
11:00AM - 12:00PM

Monday, 29-04-2016

11:00 AM - 12:00PM

How many participants are there?

Minimum unit order: 1 persons.
Maximum unit order: 1 persons.

Two Hours Electric Bike

:

USD $

22.78

Four Hours Electric Bike

:

USD $

45.57

DayPASS Electric Bike

:

USD $

51.65
*Top Deals and Last Minute deals pricing is available for limited spaces
Terms & Conditions:
The information on this website is provided on an "as is" basis.
To the fullest extent permitted by law, this Company: excludes all representations and warranties relating to this website and its contents or which is or may be provided by any affiliates or any other third party, including in relation to any inaccuracies or omissions in this website and/or the Company's literature; and excludes all liability for damages arising out of or in connection with your use of this website. This includes, without limitation, direct loss, loss of business or profits (whether or not the loss of such profits was foreseeable, arose in the normal course of things or you have advised this Company of the possibility of such potential loss), damage caused to your computer, computer software, systems and programs and the data thereon or any other direct or indirect, consequential and incidental damages.
This Company does not however exclude liability for death or personal injury caused by its negligence.
The above exclusions and limitations apply only to the extent permitted by law. None of your statutory rights as a consumer are affected.
Cancellation Policy:
Cancellations must be made 24 hours in advance from the date of departure to avoid cancellation fees.
Read full supplier's terms & conditions
Four Hours Electric Bike:
USD $
46
DayPASS Electric Bike:
USD $
52
Check Availability

Instant confirmation

Add to wishlist

Added to wishlist
Best Price Guarantee

Free & Easy Cancellation

Up to 10% Cashback

100,000 5 Star Reviews