Cairns 15,000ft Tandem Skydive

Cairns, Australia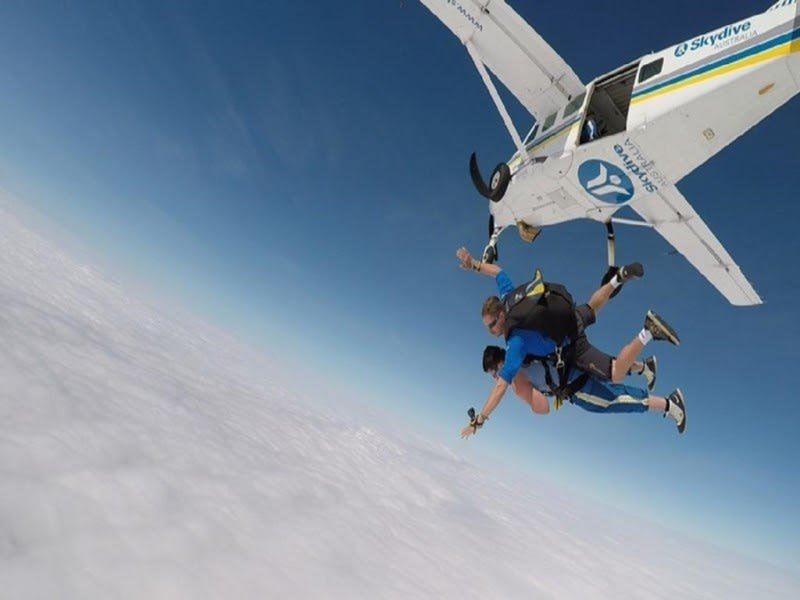 or 6 weekly interest free payment from
$60.01
with

Not available

Instant confirmation
What's Included
Diving equipment Professional assistance Guide Audioguide Transport
WHAT TO EXPECT
15,000 ft tandem skydive

Skydive in a tropical paradise with Skydive Cairns and it will become an unforgettable experience of a lifetime. The warm tropical climate and spectacular views out to the Great Barrier Reef and World Heritage Rainforests will take your breath away. Surrounded by breathtaking rainforests and the largest coral reef system in the world, paradise is waiting for you! Jump from up to 15,000ft over Cairns, reaching speeds of up to 220km/hr for up to 60 seconds for a heart-stopping, life-changing freefall. Skydive in Cairns with the best views, best locations, best customer service and the best instructors. You're in safe skies with the Skydive Australia crew, so step outside your comfort zone and push personal boundaries with a skydive experience you'll remember forever.


Terms & Conditions:
What to bring: The voucher and a valid id. Conditions: The minimum age required for this activity is 12 years. If you are between 12-18 years you must have parental or legal guardian consent. If your parent or legal guardian cannot be with you on the day of your skydive you must notify our office immediately. We will arrange for the correct documents of consent to be sent to you prior to your skydive. Free bus transfers from all Cairns hotels. Please contact Skydive Australia min. 24 hours prior to your trip to confirm your pick up time and booking. Skydiving is weather dependant, ensure to have your phone switched on the day prior and on the day of the skydive in case of any delays or cancellations. In case of any medical conditions or issues please check with your GP if skydiving is suitable. Weight Restrictions and Charges apply in all skydiving locations in Australia. Supplier emergency phone: 1 300 520 248. Voucher type: Printed Voucher. Print and bring the voucher to enjoy the activity. Voucher validity: Service Date. Skydive Australia has to be notified if the customer is under 18 years, over 95kgs or in case of any medical condition/issues. Restrictions: No alcohol is to be consumed 8 hours prior to your tandem skydive, we reserve the right to refuse clients we suspect to be intoxicated with no refund Scuba Diving: Due to medical restrictions, you must not scuba dive 24 hours prior to skydiving. Not included: APF (Australian Parachute Federation) membership AUD 35 payable on the skydive, gratuities.
or 6 weekly interest free payment from
$60.01
with

Not available

Instant confirmation

Add to wishlist

Added to wishlist
Best Price Guarantee

Free & Easy Cancellation

Up to 10% Cashback

100,000 5 Star Reviews