Aranui Cave Tour
Explore the magnificent Aranui Cave known for some of the finest cave formations of all Waitomo caves.

Waitomo, New Zealand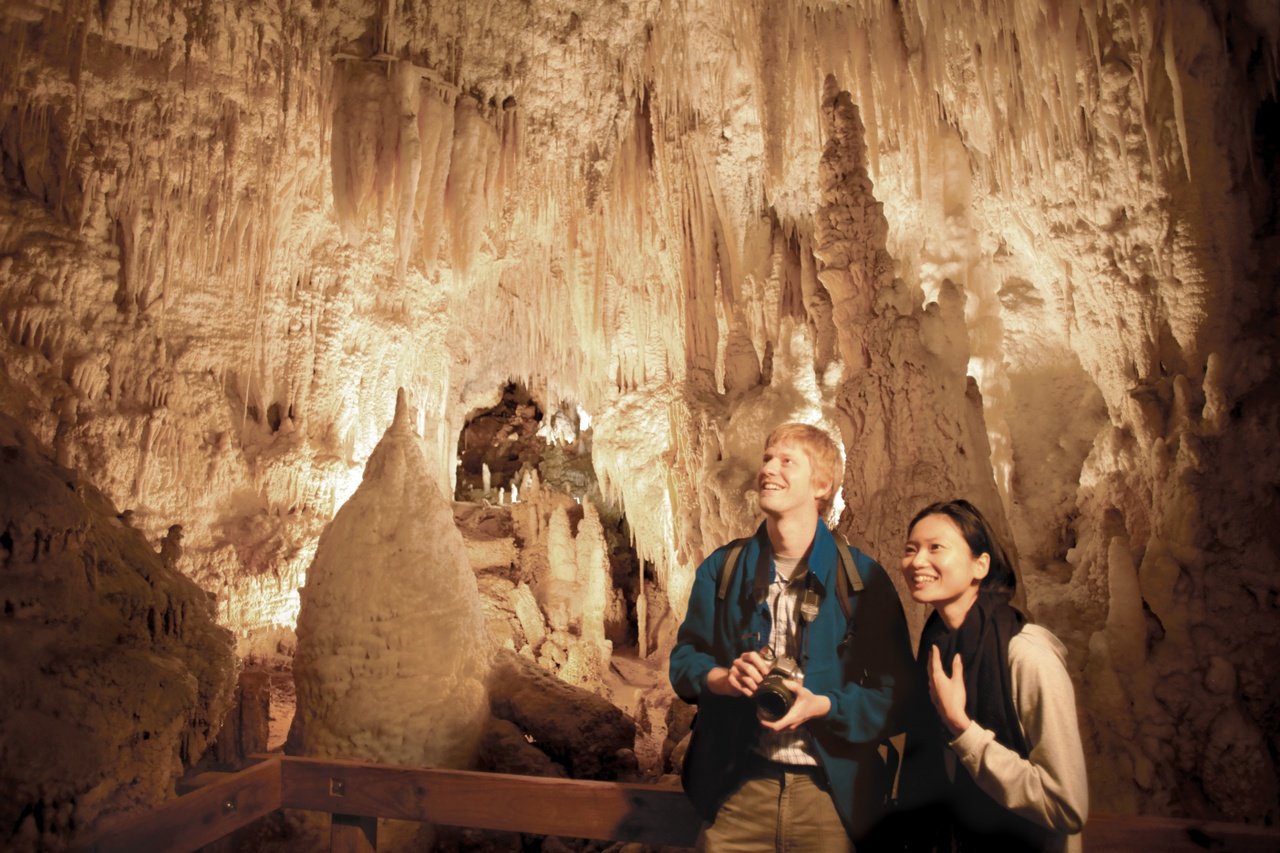 Instant confirmation
What's Included
Theatre with cave tickets
Experienced guides with great knowledge of the geology of the formations and the cave history
What's excluded
Transfers from accommodation
WHAT TO EXPECT
Aranui Cave
Aranui Cave is located in the Ruakuri Scenic Reserve at a 5-minutes drive from the Waitomo Glowworm Caves. The cave is named after Ruruku Aranui. He was a local Maori man who first discovered this hidden treasure back in 1910.
Aranui Cave has a natural cave entrance. It is the smallest and most delicate cave of Waitomo's three main caves. Aranui is a dry cave without a river running through it. Therefore it does not accommodate a great deal of life past its entrance.
However, just inside the entrance you will find a colony of native New Zealand cave wetas. Further into the cave you can admire the most stunning collection of stalactites, stalagmites, flowstones and decorative formations. Aranui Cave is a must-see magical place that exhales mystical Maori myths and legends.
Discover nature's interior decorations
Join the guide for a tour along safe boardwalks into narrow chambers. Admire some of the finest cave formations of all Waitomo caves. Aranui Cave is known for its magnificent limestone formations, high chambers, and the pale brown, white and pink shades of the huge stalactites.
Cave wetas
Just inside the entrance to Aranui Cave, you will find a colony of cave wetas; large insects that can only be found in New Zealand. The insects have been inhabiting earth since the dinosaur age. Wetas are closely related to the locust and cricket. It is a Maori word that literally means the 'ugly one' or the 'spiny one'.
Cave wetas differ from other wetas. The size of their limbs and antennae in relation to their bodies is different than that of other wetas. They have very long legs and antennae which help them find their way in their dark habitat.
They have eyes, but they only use them to avoid light. They leave the Aranui Cave at night and forage on the forest floor for food. In case of a full moon, they will not leave the cave, because then there is too much light.
Our guides
Tours of Aranui are led by experienced guides. The guides provide interesting information on the cave history and on the geology of the formations. Tour groups are small in order to provide visitors with an up-close and personal encounter with nature. Plenty of magical memories to take away! Learn all about the magical and mystical Maori myths and legends that Aranui cave plays an important role in. The guides will also share their knowledge about the native cave wetas. Listen carefully, ask all the questions you have about the magical wonders around you and enjoy this mystical tour!
Departure point
Aranui Cave - 39 Waitomo Caves Road, Waitomo, Otorohanga 3940, New Zealand.
What to bring?
Comfortable walking shoes
Warm jacket
Please note
Aranui Cave does not have wheelchair access and is therefore not suitable for visitors with mobility problems.
11:00AM - 12:00PM

Monday, 29-04-2016

11:00 AM - 12:00PM

How many participants are there?

Minimum unit order: 1 persons.
*Top Deals and Last Minute deals pricing is available for limited spaces
Terms & Conditions:
Rates are in NZD and are valid from 1st October 2016 - 30th September 2017 and are inclusive of 15% GST.
Child prices are for 4 -14 years old inclusive (proof may be required).
Children under 4 years of age are free
Cancellation Policy:
100% of gross charged inside 24 hours from departure
100% full fee chargedi in case of a no-show.
Check Availability

Instant confirmation

Add to wishlist

Added to wishlist
Best Price Guarantee

Free & Easy Cancellation

Up to 10% Cashback

100,000 5 Star Reviews