Duration
Varies

i
Start & End Time
Varies
Pick-Up & Drop-Off
Not included

i
Fitness Level
Low
Meals
Not included
Start & End Location
Cairns
What's Included
Get up to $20 cash back per person when you book with us
Enjoy up to 7 hrs on Green Island to explore this 6000-year-old coral cay
A choice of snorkelling equipment to explore the stunning reefs that surround the island or a Glass bottom boat tour, for coral viewing from above
Return cruise from Cairns onboard an air-conditioned fast catamaran
Environmental Management Charge, which contributes to the Great Barrier Reef Marine Park Authority's management & conservation of the reef
Please note: Transport to and from Reef Fleet Terminal is not included. Check-in is 1 hour prior to your cruise departure time
What's Excluded
Transfers to & from the Reef Fleet Terminal
Optional activities both on the Green Island
Meals
What to Expect
Green Island is a beautiful 6000-year-old coral cay located in the Great Barrier Reef Marine Park – a premier world heritage site and one of the Seven Natural Wonders of the World. The island is approximately 12 hectares in size and is unique in that it has a reef and rainforest environment. Of the 300 coral cays in the Great Barrier Reef, Green Island is the only one with a rainforest. It's also home to a diverse range of flora and fauna, including 55 species of birds, nearly 300 kinds of corals, plus sea turtles, fish, and dugongs.
Aboard the fast catamaran from Cairns, your journey to the Great Barrier Reef takes only 45 minutes! Surrounded by a reef filled with diverse marine life, and home to a unique rainforest environment, Green Island awaits to provide you with a memorable holiday experience. Take part in some of the activities that the island has to offer or relax on the beach and let your day unfold in this tropical paradise. Stroll through magical rainforest, laze on white coral sand beaches, or swim in the refreshing waters.
This tour includes a choice of snorkel equipment hire, so you can discover the fringing reef from below the water's surface, or a glass-bottom boat tour if you prefer to stay dry and see the coral from above.
You can also make use of the island facilities, and enjoy a self-guided eco walk around the island. With a circumference of just 1.6km, Green Island is home to over 120 species of plants, including a unique mixture of coastal and rainforest plants.
When you book, you can choose from various departure times from Cairns, and Green Island, meaning you can spend up to 7 hrs on the island, depending on what suits your itinerary. The Seawalker activity is scheduled for 12:00 pm, 2:30 pm, or 4:30 pm.
Frequently Asked Questions
Depending on the departure times you choose, you can spend from as little as 2 ½ hours or up to 7 hours at Green Island. You do need to book return times when making your reservation, however, you can change your return times at a later time subject to availability.
Yes, Green Island is situated in the Inner part of the Great Barrier Reef.
Hopefully not. Our large, stable fast catamarans provide very good sea keeping even in rougher ocean conditions. Where there is motion, whether a car, bus, plane or boat, some people will suffer from motion sickness. Motion sickness tablets are available onboard for purchase. We offer ginger tablets as a natural alternative motion sickness medication on a complimentary basis. To be effective, motion sickness medications should be taken immediately upon boarding. If you are concerned about potential motion sickness, being closer to the coast, Green Island is a shorter 45-minute journey and is more protected than a cruise to the Outer Reef.
We recommend you bring your own towel. We do have limited towels available for hire however we cannot guarantee availability. These can be collected from the Pool Bar on Green Island.
Standard masks magnify objects underwater by about 25%. We do have prescription masks up to -8.0 available. If you need a prescription mask, please advise us so we can make sure one is available for you as we have a limited supply, especially in the higher prescription strengths. These are hired from the Dive Shop on the Green Island.
At certain times of the year (generally November – April), jellyfish, commonly called marine stinger's, can affect the seas of Northern Australia. Most jellyfish are harmless to man, however certain varieties may cause a serious reaction. Incidents involving serious marine stings in this area are extremely rare. Our crew are conscious of the danger of marine stingers and will take appropriate steps to ensure your protection if they believe conditions are such that there is a possibility of encountering these creatures. Lycra suits are available for hire onboard to reduce the possibility of stings and irritations while also offering protection from the sun.
Seawalker takes approximately 55 minutes. This includes 5-10 minutes travel time from the Green Island beach to the Seawalker platform, about 10 minutes for the briefing, 5 minutes "suiting up", 15-20 minutes underwater, and another 5-10 minutes back to the beach.
Policies
Terms & Conditions:
The minimum age for Seawalker helmet diving is 12 years of age, and the minimum height is 140cm tall
Certain medical conditions, medications and height restrictions may prevent some people from participating in this activity. The participant also needs to pass a medical questionnaire as some medical conditions may preclude you from being able to join these tours
Guests must check-in 1 hour before your departure time
Snorkelling can be a strenuous activity. Please use caution and inform our crew of any medical conditions
All schedules, activities and prices may be varied without notice
Cancellation Policy:
A change of travel date can be made to your booking without incurring any cancellation fee, as long as more than 24 hours' notice is provided (depending on availability)
Tour Operator
Great Adventures
1 Spence St, Cairns City QLD 4870, Australia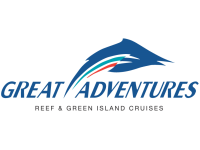 Reviews for Green Island Eco Tour