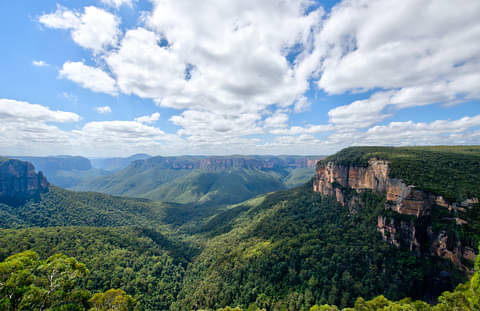 BLUE MOUNTAINS
Tours, trips and activities in the Blue Mountains
View Best Deals
The Blue Mountains - Things To Do
Despite being located less than an hour west of Sydney, the Blue Mountains will leave you feeling world's away from the hustle and bustle of everyday life on one of our tours or activities.
Situated within a World Heritage-listed area and offering a unique, relaxing environment, this area of New South Wales unveils a spectacular wilderness in all its rugged glory, with the infamous Greater Blue Mountains Drive an epic journey through the alluring sandstone plateaus west of Sydney.
Combining an elixir of fresh air, adventure, country hospitality and a tantalising gourmet scene, there's so much to see, do and explore here.
Perfect for exploring the best that NSW has to offer, here you'll discover The Three Sisters at Echo Point, many bushwalking trails, incredible galleries, delicious dining options, unique shopping opportunities, indulgent day spas, golf and numerous other attractions.
Whether you're looking for a romantic getaway or a family escape, this unique part of the world is here to be enjoyed, regardless of who you are or where you're from.
So go on...get out there!